First announcement on this site about my upcoming book, entitled Pro MySQL, published through Apress. Really excited so far. I'm co-authoring the book with Michael Kruckenberg, out at Tufts University.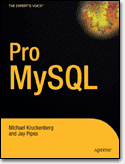 Been a bit of a roller-coaster ride so far! Between clients and all the other projects we've got going in, finding time to write hundreds of pages on MySQL internals and SQL development is tough. But, I'm very happy with the work so far. I've been concentrating mostly on the development end of things, and Mike's been digging in hard for the adminstrative end of MySQL and many of the newest and most exciting features of MySQL 5.x.
It should be published in mid 2005, and covers a broad range of topics, from the internals of MySQL to clustering and replication for high-volume applications.
You can see the "preview" page for the book at Apress' website: